News from Mrs. Guarino
The fifth/sixth grade is off to a whirlwind start this year! We started our year with the Opening of School Mass. In Religion, the students have learned about the Deposit of Faith and the literary forms in the Bible. After we learned about the creation story, creation pictures were constructed out of yarn. Then the Religion topics moved on to Adam and Eve and Noah.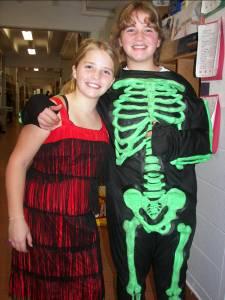 Our literature has taken us into the World War II era. We completed an in-depth unit based on the novel Number the Stars by Lois Lowry. Behind the Bedroom Wall is the novel we are listening to at story time. Presently, a poetry unit is being completed.
During writing class, we have been focusing on improving our main ideas and details. Every morning starts off with a writing prompt for our journals. Students have just received usernames and passwords for the writing program MyAccess. They are currently learning how the program works.
The year started off with math time concentrating on place value, decimals, and expressions. Later, the spotlight was on fractions and mixed numbers. We even did a little "Egyptian" math with fractions in simplest form!
We have had earth science at the center of attention during science class. The students studied the layers of the earth by constructing models made of dish soap, corn syrup, and water. It was a messy but informative lesson! We also built paper models of the rock cycle and sea floor spreading. Recently the fifth and sixth graders drew topographic maps of Play-Doh mountains! Finally, in social studies we have learned all about ancient Mesopotamia and Babylon. We wrote our names and ages in cuneiform using clay and toothpicks (reed).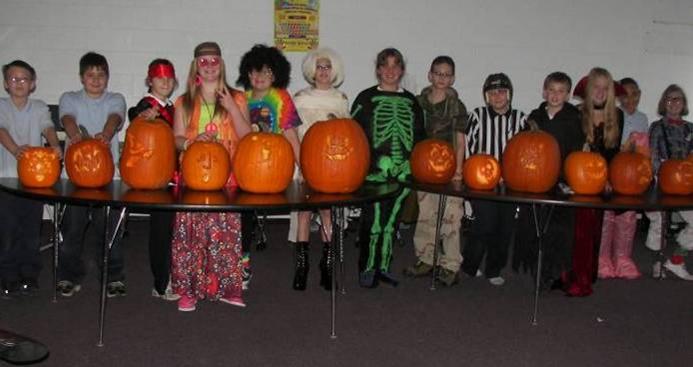 The lesson of bartering was learned when we traded our snacks and quickly discovered the importance of supply and demand! At the moment, we have been diligently working at completing our Egyptian projects.
We hope that you had the chance to see the sixth grade pumpkins at the Halloween party. The students did an AMAZING Job!